All-wheel drive (or 4×4 or four-wheel drive) is a necessity for off-roading.
Many popular SUVs offer an AWD option.
Some models even have specialized trims, focusing on off-road capabilities.
Increasingly, it's difficult to use "affordable" and "off-roading" in the same sentence when talking about cars. That's because SUVs and trucks have been selling like hot cakes for the past few years. Automakers know what they have, so to speak, and are charging a premium for SUVs and pickups in general. The markup is much higher for anything that can survive a jump in the dunes or climb a muddy mountain.
With that said, there are still a few deals to be found. We have rounded up a dozen SUVs, crossovers and pickups that can handle themselves off-road. All come equipped with four-wheel or all-wheel drive and an MSRP under $50,000.

2022 Subaru Outback Wilderness
Starting Price: $38,170
The Subaru Outback Wilderness is a sportier, lifted version of the Outback crossover. It has 9.5 inches of ground clearance, a front skid plate, improved approach and departure angles and off-road tires. There is only one engine available, a turbocharged 2.4-liter four-cylinder producing 260 horsepower. A CVT and all-wheel drive are standard.
As Car and Driver discovered, the Outback Wilderness is equipped to go up and down steep, muddy hills. It can also make its way over downed logs with ease. One area it does have trouble in is fording deep water, though. Still, for $38,170 you get a pretty capable off-roader that comes with top-tier safety tech. Oh, and it's not bad on gas, either, averaging 22/26/24 mpg (city, highway, combined).
2022 Jeep Renegade Trailhawk
Starting Price: $30,690
You might be surprised given its "cute" design, but the Jeep Renegade Trailhawk is quite capable off-road. It is, after all, a Jeep. The Trailhawk rides higher than other Renegades, comes standard with four-wheel drive, hill descent control and off-road tires.
The Renegade won't out-do the Wrangler, but that's not the point. It can squeeze into most city street parking spots and also hold its own on the trails. In fact, Edmunds said "nothing in its class" could match its off-road capability.
2022 Ford Bronco Sport Badlands
Starting Price: $34,090
The "baby Bronco" certainly isn't a softie on the trails, especially in Badlands guise. The range-topping trim was built to go off-road. It has a whopping seven drive modes, which include "Mud/Ruts" and "Rock Crawl." There is also a feature that mimics a locking rear differential for when the going really gets tough. Oh, and the Bronco Sport Badlands has a front camera to help you line yourself up on tricky trails, too.
Road & Track found the Bronco Sport Badlands quite capable in their off-road review. The outlet wrote that "it's incredibly easy to hit the trails" in. While some may prefer more of a challenge, the Bronco Sport Badlands is a point-and-click off-roader. This makes it a perfect pick for weekend warriors who want an off-roader that's also civilized.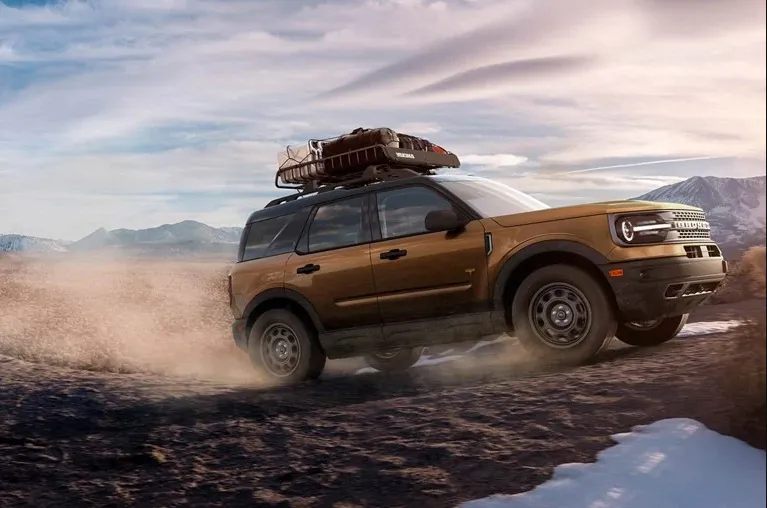 2022 Jeep Wrangler Sport
Starting Price: $31,590
The Jeep Wrangler Sport is the quintessential off-roader, and it can be had for under $31,590. Mind you, this is the two-door Wrangler Sport with the soft top. This is quite a steal considering the Wrangler's status as the standard-bearer of off-road vehicles.
The base Wrangler comes equipped with four-wheel drive and a six-speed manual, a rare combination in today's world. It lacks the features of fancier and more expensive Wranglers, but it's still a two-door Jeep. That means it's automatically one of the most capable off-road cars around, period.
2022 Nissan Frontier Pro 4X
Starting Price: $37,770
Off-road trucks tend to cost a lot. For proof of that, see the Ford F-150 Raptor. That's part of what makes the Nissan Frontier Pro 4X special. It's a turn-key off-roader that is reasonably priced. It comes equipped with Bilstein performance off-road shocks, front skid plates and a reinforced transfer case and fuel tank. It also has 9.8 inches of ground clearance and a 360-degree camera with an "off-road mode."
The Frontier Pro 4X is a budget trophy truck. It won't be able to stand up to the same punishment as the aforementioned F-150 Raptor. It's not designed to, though. It's affordable, brand-spanking-new for 2022 and can handle modest off-roading with ease.
2022 Ford Bronco Base
Starting Price: $30,800
The only base model 4×4 that matches the Wrangler in terms of capabilities and cool is the new Ford Bronco. Like the Wrangler, the Bronco comes standard with four-wheel drive and a manual, albeit a seven-speed one. That seventh gear is a "crawler gear" for low-speed high-torque situations. Just like the Wrangler, its doors and top can be removed. Unlike the Wrangler, the Bronco Base offers five different drive modes in its "terrain management system." It also comes with bigger off-road tires.
There's really no bad choice when you're picking between the Wrangler and the Bronco. If anything, it's nice to have more legitimate off-roaders available at this price point.
2022 Chevrolet Colorado ZR2
Starting Price: $45,395
The Chevrolet Colorado ZR2 is on the more expensive side for a mid-size truck. That said, you're paying for its off-road prowess. The Colorado ZR2 is wider than the standard Colorado. That's to make room for its 31-inch tires. It is also taller as its suspension is jacked up two inches. Standard features include Multimatic dampers and underbody skid plates.
While the Colorado ZR2 comes equipped with a V6, it can also be had with a diesel engine. The diesel pushes its price to just under $50,000 ($49,065), but it does offer 369 lb-ft of torque. All that extra grunt is handy for pushing up trails or sand dunes.
2022 Land Rover Discovery Sport
Starting Price: $43,300
It's easy to write off the Land Rover Discovery Sport as a luxury SUV that can't handle the backcountry. Do so at your own peril, though, as the Disco Sport is seriously capable off-road. It can ford water up to 23 inches deep. It comes standard with all-wheel drive and drive modes for gravel, snow, mud and sand. Its other tech features include hill launch assist and hill descent control.
Add it all up and you have a smart-looking SUV that won't be out of place at an off-road park. It's also fairly affordable, at least as far as Land Rover's go.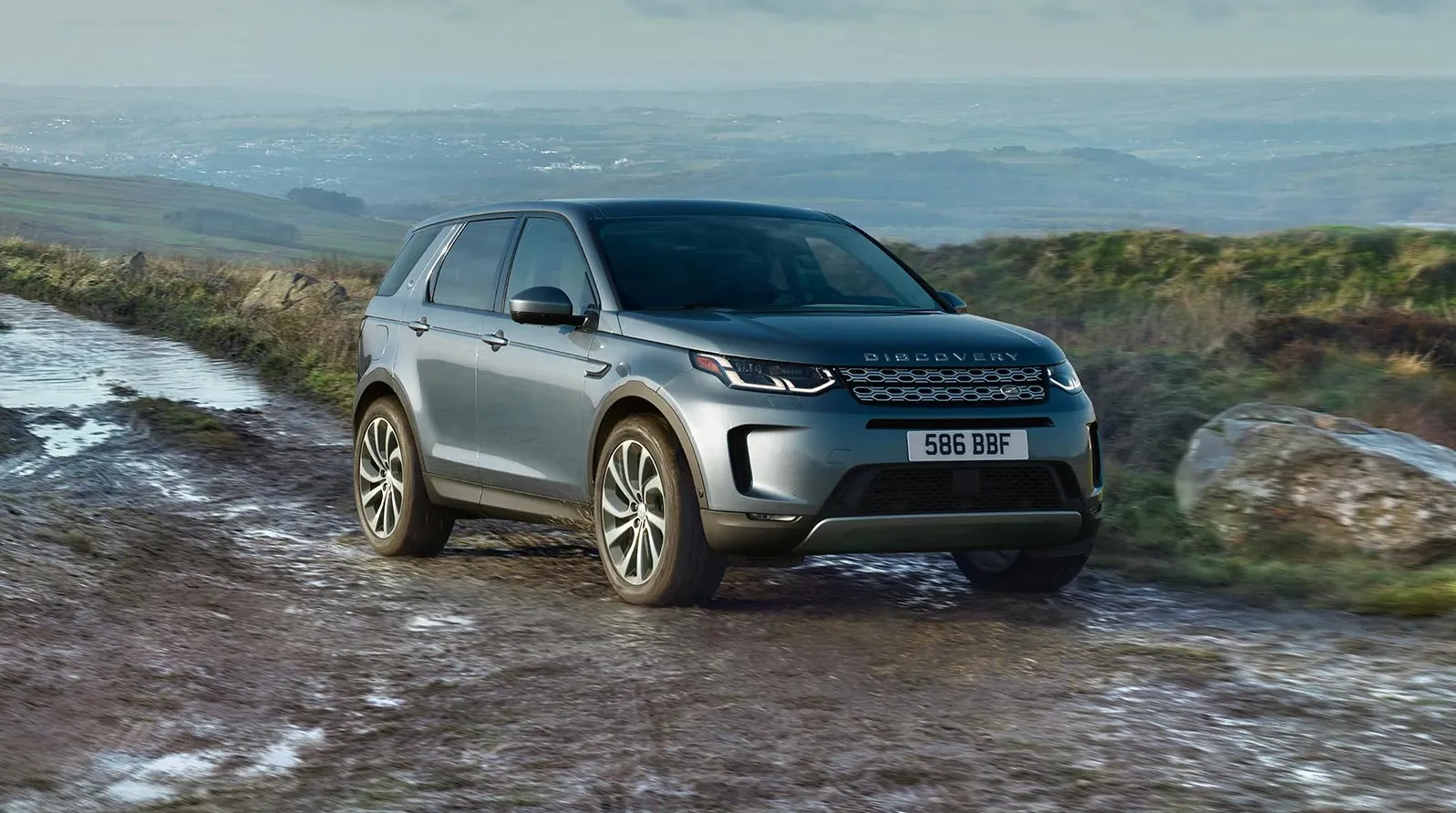 2022 Toyota 4Runner TRD Off-Road
Starting Price: $41,435
The 2022 Toyota 4Runner may look like an SUV for soccer moms that's desperately trying to appeal to football dads. However, the 4Runner is just as adept at getting groceries as it is at going off-road. The 4Runner TRD Off-Road comes standard with 9.5 inches of ground clearance, a locking rear diff and multi-terrain drive modes. It also features "Crawl Control," which modulates the throttle and braking at low speeds on tough terrain.
If anything, the biggest knock against the 4Runner is that it's too much of an off-roader. CNET observed this in its review of the top-tier 4Runner TRD Pro. The outlet noted that the 4Runner can tackle just about anything off-road but offers a poor on-road experience. That's bad news for those who want a grocery-getter. It's good news for those who want to go off-roading, though.
2022 Subaru WRX
Starting Price: $29,105
Yes, the 2022 Subaru WRX is not an SUV. And yes, it's not even a jacked-up sedan like the Outback of yore used to be. That being said, if you want to go off-road in a four-door sedan, this is still your best bet.
Of course, "off-road" in this sense means "rallying" more than anything else. The WRX does trace its heritage back to rally racing, after all. While its standard all-wheel drive won't conquer trails or dunes, it will give you confidence on dirty backroads. The WRX is all-new for 2022 from the ground up, too. The best part: It still comes standard with a six-speed manual.
2022 Subaru Crosstrek Sport
Starting Price: $26,795
The 2022 Subaru Crosstrek Sport is a sleeper off-roader. It packs 8.7 inches of ground clearance and all-wheel drive standard. The kicker is its "X-Mode" torque management system, which is capable of getting the Crosstrek out of sticky situations.
MotorTrend learned this in 2018 when it took the Crosstrek to an off-road park. X-Mode successfully got the magazine's test Crosstrek moving in a deep mud pit. It also got it moving on a bump, transferring additional power to two wheels with traction. The Crosstrek may not look like much, but it's one of the best off-road bargains out there.
2022 Jeep Gladiator Sport
Starting Price: $37,975
The Jeep Gladiator is perhaps one of the most fun off-roaders on sale today. This is due to the fact that it's a pickup truck whose doors and roof can be removed! Like the Wrangler Sport, the Gladiator Sport comes standard with 4WD and a six-speed manual.
The Gladiator's biggest endorsement so far has come from Car and Driver. The magazine named the pickup to its 2020 "10 Best" list, writing: "It is the car for having fun outdoors." The Gladiator can also do "truck" things, too, like hauling and towing. Its max payload capacity is 1,600 pounds and its max towing capacity is 7,650 pounds. This combination makes it a great buy for those who want to hit Home Depot after the trails.