Key Takeaways
Automakers continue to push technology forward every single year, producing amazing new vehicles.
We'll see plenty of cool new models in 2023 from both old and new auto brands.
While electric vehicles are certainly taking the spotlight, there are still some spectacular gas-powered rides for you to enjoy.
Automakers the world over have upped their game for 2023 (and beyond). Both established and emerging vehicle brands have unveiled exciting new models that combine eye-catching looks with cutting-edge technology. The best of these vehicles also carry price tags that a large cross-section of buyers will find reasonable.
Let's take a tour of the coolest cars of 2023. The list prioritizes vehicles at the more affordable end of the spectrum but also includes a couple of indulgent flourishes. It's also worth noting that while most of these vehicles are available for purchase, others are merely announced and might not be freely purchasable immediately.
40. Ford F-150 Lightning
The first vehicle on our list isn't even a car at all. Instead, we want to talk about the Ford F-150 Lightning. Yes, North America's best-selling truck has finally gone electric. Don't worry, though, it still comes Built Ford Tough, so it can do everything you expect from a pickup truck — just without the sticker shock every time you visit the gas station.
The F-150 Lightning is packed with technology, including 11 different power outlets to charge anything you need, from mobile devices to power tools. Higher trim models also have BlueCruise, Ford's autonomous driving features that allow for hands-free driving on the highway.
The standard battery option provides 230 miles of range, while the upgraded battery can get up to 320 miles of driving. The standard four-wheel drive provides plenty of acceleration, taking the Lightning from 0-to-60 mph in 4.5 seconds. You can also tow up to 10,000 pounds or put 2,000 pounds worth of load into the truck bed. Four different selectable drive modes (via a large touchscreen infotainment unit) mean that every ride will be efficient and smooth, no matter what.
Starting Price: $53,769
39. Genesis GV80
There are plenty of options out there if you're looking for a luxury SUV. Indeed, Mercedes, BMW, Lexus, Audi, and a score of others all have perfectly adequate models on offer. However, the Genesis GV80 might have them all beat when it comes to comfort, technology, and value for your dollar.
The GV80 features an opulent cabin. It's packed with both entertainment and safety technology. Buyers have a choice of two engines — the standard 2.5-liter turbocharged four, or a more powerful 3.5-liter V6. The latter pushes this sleek SUV from 0-to-60 mph in 5.3 seconds. That's pretty fast for something that isn't a sports car.
The GV80 is also incredibly safe, picking up a 2022 Top Safety Pick+ award from the IIHS. An optional third-row allows this luxury SUV to seat up to seven people.
Starting Price: $55,800
38. Ineos Grenadier
And now for something completely different. Most of you don't need anything as rugged as the Ineos Grenadier. It's a bit of overkill when it comes to taking the kids to school, commuting to the office, or making weekly Costco runs. If you do need a beastly vehicle for all-wheel off-roading, hard terrain, towing, or whatever else, the Grenadier has you covered.
The British-based Grenadier can handle just about anything. Its high ride height will let you drive over anything. The 30/70 split rear doors make loading and unloading a breeze. It comes will a full-size spare tire and even an access ladder to the roof, which makes use of the roof rack easy, too.
The cabin is packed with technology. A 12.3″ touchscreen infotainment system is the centerpiece, giving you access to all the controls and information you need. The Grenadier might be a rough-and-tumble vehicle, but it still includes things like Apple CarPlay and Android Auto. The built-in Pathfinder Off-Road Navigation system keeps track of where you are (and where you've been), which is great when you start driving further away from civilization.
Starting Price: $97,000 (estimated)
37. Citroen C5 X
French automaker Citroen doesn't have much of a presence in North America. Indeed, you probably can't even go buy the brand new C5 X without going through the major hassle of getting it imported from the United Kingdom. It might be worth it, though, to drive something so cool and unique.
The C5 X is a luxury crossover SUV available in both standard and hybrid powertrains. It's shockingly roomy inside — a true throwback to the era of the family-sized sedan. Except this is a modern take. The hybrid version has a driving range of 31 miles on electric-only power. Unfortunately, there's no diesel option (which is a bit of a surprise for this brand). Rumors are it will be powered by a 1.2 liter engine (or a 1.6 L upgrade), putting out 130 and 180 horsepower, respectively. It's not built for speed, though. The C5 X is for smooth, leisurely drives in ultimate comfort.
Starting Price: £27,000
36. Lexus LX600
The Lexus LX600 is a beautiful luxury SUV, every way you look at it. On the outside, it boasts a strong, modern appearance. On the inside, it's filled with a deluxe, comfortable, and technology-laden cabin. Unlike some other luxury SUVs that are only in it for appearances, the LX600 is fully built to go off-road and crank out some power.
The engine is a twin-turbo 3.5 liter V6, capable of 409 horsepower, with standard four-wheel dive. There are also plenty of optional off-roading features, like an adjustable suspension. The F-Sport model provides some extra performance too, but at the expense of an ultra-smooth ride.
With five different trims to choose from, there are plenty of options for the affluent luxury SUV buyer. The only real downside is that the LX600 only seats five unless you opt for the optional third-row seating. And the Ultra Luxury trim actually lowers the seating to four, with dual captains chairs in the backseat, separated by a center console. Then again, if you don't have a large family to tow around, the LX600 might be the perfect luxury SUV for you.
Starting Price: $89,160
35. Dacia Jogger
The Dacia Jogger is a bit more mundane than some of the supercars on this list. However, it's still an excellent seven-seater SUV that provides huge value, given its starting price. It's great for large families or anyone who loves to road trip with friends. The Jogger has more than ample cargo space (especially with the rear seats folded down).
All three trims (Essential, Comfort, and Extreme SE) come with the same engine, but the top-tier option includes an eight-inch touchscreen infotainment system, a variety of advanced driver safety aids, keyless entry, and a bunch of other small upgrades that make it well worth the additional price.
Unfortunately, this is another model that isn't readily available in the United States. Dacia is based in Romania and owned by French automaker Renault. The Jogger is a relatively new model, debuting in 2021. Dacia also announced the 2023 version includes a hybrid option.
Starting Price: £17,145
34. BMW M3 Touring
Well, we have good news and bad news. The good news is that BMW is finally making a high-performance Touring version of their popular M3 wagon. The bad news is that it won't be available in the United States. It's a complicated bureaucratic problem involving crash test regulations, but BMW has simply said they aren't interested in spending the money required to bring the M3 Touring to American dealerships.
For Beemer enthusiasts in other countries (ahem, Europe), though, this is great news. The M3 Touring has tons of cargo space, xDrive all-wheel drive, and just over 500 horsepower. The M3 Touring could see a fairly limited production run. That might help it hold its value a bit, as somewhat of a collector's item.
Starting Price: £80,550
33. Alfa Romeo Tonale
The upcoming Alfa Romeo Tonale is a great crossover SUV choice for anyone who wants a bit of Italian elegance in their driveway. The Tonale exudes style and confidence, with its sleek lines and sharp nose-shaped front grille. Under the hood, a turbocharged four-cylinder engine produces 256 horsepower. There's also a hybrid model, providing a bit more punch and up to 30 miles of electric-only driving. Hopefully, Alfa Romeo also releases a Quadrifoglio model, with all-wheel drive and even more power.
The Tonale is priced starting at just under $40,000, making it an affordable foreign SUV for many buyers. Even the top-tier Voloce trim rings in at under $50,000. The classiness of the Tonale continues with a posh interior, including a beautiful 12.3-inch digital gauge cluster and a 10.3-inch infotainment screen. Standard tech features include Apple CarPlay and Android Auto, plus wireless device charging. Optional paddle shifters will satisfy anyone longing for that performance-racing feeling.
Starting Price: $38,000
32. Aston Martin DBX 707
For the ultra-wealthy (or just those living out their James Bond personal fantasies), the Aston Martin DBX 707 is unlike anything else. This high-performance SUV will easily haul your stuff and also leave other cars in the dust. It also costs about $50,000 more than the standard DBX, which starts at an already eye-watering $189,000. So what does the extra cash buy you?
For starters, the 4.0-liter V8 powerplant generates 697 horsepower and 663 lb-ft of torque. Aston Martin promises it can go from 0-to-60 mph in just 3.1 seconds. That's even more remarkable when you realize the DBX 707 weighs in at close to 5,000 pounds. Several performance driving modes, along with optional 23-inch sport tires and ceramic brakes, mean you can legitimately take your DBX 707 to the local track if you wanted.
The interior is as luxurious and refined as you'd expect from a niche premium brand like Aston Martin. The only thing truly missing is all of the 007 gadgets outfitted by Q and the rest of the MI6 team. Is the DBX 707 the fastest SUV in the world? Aston Martin believes it is. The Porsche Cayenne Turbo GT, however, still has a strong claim to that particular title.
Starting Price: $239,086
31. Ferrari 296 GTB
We really are trying to keep the cars on this list in the "affordable" price range. Sometimes, though, a special model is just so damn amazing that we couldn't leave it out. In this case, it's the new Ferrari 296 GTB. Sure, the price starts at well over $300,000, and most of us can only dream of ever owning one. However, this is a list of the coolest cars, and the 296 GTB is really freakin' cool!
This sleek hybrid actually only had a V6 engine. However, the sporty electric motor still allows this baby to crank out over 800 horsepower. Reviewers praised the "exhilarating acceleration" and "visceral driving experience" — everything you'd want from a car that costs more than some houses. The steering wheel is filled with controls and buttons. While some consider this a distraction, others enjoy the F1-like experience.
Starting Price: $322,986
30. Hyundai Santa Cruz
What exactly is the Hyundai Santa Cruz, anyway? It's part SUV, part pickup truck. Regardless of what you call it, the Santa Cruz is a unique utility vehicle that'll turn heads and get the job done. While it doesn't have quite as much rugged power or towing capability as a full-size, heavy-duty truck, it's more than enough for camping trips and those endless trips to Home Depot.
The trade-off, however, is a good one. The interior is much nicer than most of its mid-size classmates. The quality cockpit definitely makes you feel like you're driving a more expensive truck. The gauge cluster is fully digital, and there's either an eight-inch or 10.3-inch infotainment touchscreen. Apple CarPlay, Android Auto, and wireless device charging are all available.
The only real criticism of the Santa Cruz is the standard engine. It's a 2.5 liter four-cylinder engine that makes 191 horsepower and 181 lb-ft of torque. That's not a ton of power for a truck. We strongly recommend springing for the upgraded 2.5-liter turbo-four, which raises those numbers to 281 and 311, respectively.
Starting Price: $25,450
29. Lotus Emira
Lotus has never really been a mainstream automaker. Then again, they've never tried to be. They are much more content to continue making exotic performance cars and marketing them to niche audiences. And while the company is shifting towards electric vehicles entirely, they have one last gas-powered hurrah in their plans — the 2023 Emira.
Top Gear describes the Emira as a "supercar lookalike for sports car money." That's bound to appeal to plenty of buyers who love speed but can't drop a quarter-million (or more) on a car. The Emira comes with two different powertrain options. There's a standard supercharged V6 manual, but also an AMG-spec Turbo Four. It generates between 360 and 400 horsepower and goes from 0-to-60 mpg in about four seconds.
Starting Price: $93,900
28. Kia Telluride
The Kia Telluride is, perhaps, the modern-day equivalent of the '90s minivan. It's roomy, reliable, practical, durable, and (maybe most importantly) affordable for a majority of middle-class families. Unlike a minivan, though, the Telluride is … actually pretty cool.
For starters, it doesn't look like a minivan. It's technically a mid-size crossover SUV, but those lines seem to get more blurry every year. It's more like a smaller, rounded-out Suburban. Or a larger, boxier station wagon. Whatever it is, the Telluride just checks so many boxes. Seating for seven? Yep. Plenty of cargo space for your kids and their junk? Definitely. Enough power to tow a camper and all-wheel drive for snowy conditions? Also yes. Enough technology inside to make it a comfortable drive for almost anyone? Absolutely.
The Telluride might not be perfect at any one thing. It doesn't have eye-popping fuel efficiency, its engine could use a bit more pop, and reviewers say the adaptive cruise control is a bit buggy. Doesn't matter, though, because the Telluride is really good at almost everything, making it an excellent value buy for any family.
Starting Price: $35,690
27. Hyundai Ioniq 6
The Hyundai Ioniq 5 is on the top of many shopping lists for interested EV buyers. The Ioniq 6, however, ups the ante in a big way. The fully electric four-door sedan offers single- and dual-motor options, providing up to 300 miles of range. The Ioniq 6 certainly looks to be a luxury EV sedan without the eye-popping price tag.
Depending on the configuration, the Ioniq 6 generates between 168 and 320 horsepower. Like other EVs, it boasts impressive acceleration from a standstill. Like its predecessor, the Ioniq 6 features a lounge-like interior, packed with comfort features. The fold-down backseats will give you a bit of extra cargo space, too.
Starting Price: $45,000
26. Jeep Wrangler
The Jeep Wrangler is actually available in more than a dozen different variations. There are 14 different trims, in total. That means you can truly customize your Jeep however you want, spending anywhere from $31,195 to almost $82,495. There are really too many configurations to summarize in just a few paragraphs, so we won't even try. Just know this: cruising down to the beach with your friends in your new Jeep with the roof (and maybe the doors?) off, is one of the coolest feelings you can achieve behind a steering wheel.
The Wrangler truly shines once the asphalt ends, making it ideal for off-roading, camping trips, trails, or anything else nature can throw at it. The Sahara 4xe or Rubicon 4xe trims are especially adept in these conditions. There are a few different engine options, including select hybrid variations that can get up to 25 miles of electric-only driving.
Starting Price: $31,195
25. Polestar 2
Polestar is Volvo's all-electric sub-brand. The first Polestar sedan was a great debut into the EV space, but the current Polestar 2 looks like a huge leap forward. It offers both a single- and double-motor version, getting 231 and 408 horsepower, respectively. Polestar also promised future over-the-air software updates that will take the dual-motor model to even more hp and driving range.
The Polestar 2's EV stats are certainly nice, but it's really everything else that makes it such an attractive purchase. There's a panoramic sunroof, 20″ forged alloy wheels, a high-performance audio system, and a ton of standard driver-assist safety features. It's basically a quality luxury EV sedan without the usual hard-to-swallow price jump that often accompanies such a vehicle.
Starting Price: $48,400
24. Honda Civic Type R
The Honda Civic Type R is back! Forget the subdued stock version of the regular Civic model — this special trim is geared for performance. Not only does it come with a manual transmission, but it's also equipped with an even more powerful version of the turbocharged 2.0-liter four-cylinder engine that the last Type R had.
The new Type R also includes a nine-inch infotainment touchscreen running Apple CarPlay and Android Auto. Other tech features, like a WiFi hotspot and wireless charging, are also available. Mostly though, the Type R is for racing and performance enthusiasts. This model is popular with hobby racers and those who like to tune and modify their rides.
Starting Price: $44,390
23. Acura Integra
The Acura Integra has a beloved fanbase. The sporty Honda-built model was hugely popular among racing and car-modding enthusiasts. Especially the Type-R models (which were also among the most stolen cars for nearly a decade). Sadly, it was discontinued in 2006. There was much rejoicing from the Integra community when it was announced the model would be making a comeback.
The 2023 Integra is a four-door hatchback. It shares a lot of DNA with the 11th-generation Honda Civic. The new Integra gets a 200-hp turbo 1.5-liter engine. It will also likely be one of the rare vehicles you can buy with a manual six-speed transmission.
Starting Price: $31,300
22. New Tesla Roadster
The original Tesla Roadster truly helped change the game when it comes to EVs. It was bright red, low and sexy, and drove like a rocket. Tesla originally promised to debut a second generation of the Roadster in 2020. However, it was delayed. And delayed again. Now it's anyone's best guess as to when they will actually start building and delivering the new Roadster.
That's not to derail any of the hype, though. Tesla promises the new Roadster will go from 0-to-60 in a blistering 1.9 seconds and complete a quarter-mile run in 8.8 seconds. It also has an industry-leading 620-mile driving range. However, it remains to be seen if the Roadster will actually deliver on these impressive performance promises.
The Roadster isn't cheap. Prices start at $200,000, and a $50,000 deposit is required just to confirm your order. Since you can order it now, we're adding it to this list. We just hope you're patient when it comes actually getting one in your driveway.
Starting Price: $200,000
21. Chevy Blazer EV
The Chevy Blazer has a long history of being a reliable American family vehicle. After briefly disappearing from Chevy's lineup for a while, the Blazer triumphantly returned in 2019 as a mid-size SUV. Of course, there are hundreds of similar vehicles kicking around car lots. So, what makes the new Blazer special?
General Motors CEO Mary Barra recently promised a fully electrified version of the Blazer would arrive by the end of 2023. The Blazer EV will probably ride on a platform similar (or identical) to the Chevy Bolt. It features up to 320 miles of driving range. And it's estimated to go from 0-to-60 mph in under 4 seconds, depending on the trim. Details are still scarce, but excitement is growing.
Starting Price: $44,995
20. Karma GSe-6
Let's say you want to join the EV revolution, but have a particular dislike for Tesla (for some perfectly valid reasons). You could opt for an EV from one of the traditional auto brands, but that might jeopardize your counter-culture, hipster image. Life is hard when you need to be different from the crowd, right?
The Karma GSe-6 might be the car for you. Based in California, Karma Automotive has debuted this four-door EV that gets 300 miles of driving range and can go from 0-to-60 mph in 3.9 seconds. It also comes with internet radio, 21-inch wheels, and "connected car capabilities." Best of all, it's much cheaper than the Tesla Roadster or the Lucid Air, starting at $79,900.
Starting Price: $79,900
19. BMW iX M60
BMW unveiled this brand-new all-electric SUV back in September 2021 at the CES showcase. The iX M60 is BMW's first-ever M-badged electric performance vehicle. That badge comes with certain expectations, which BMW delivers with a crossover SUV that gets 610 horsepower, 811 lb-ft of torque, and a blister-fast 0-to-60 mph speed in 3.6 seconds.
It also comes with quick DC charging, giving you 80% worth of juice in just 35 minutes. All this speed and style don't come cheap, though. Of course, that comes with the BMW territory.
Starting Price: $108,900
18. Dodge eMuscle Car
The Dodge eMuscle car is easily the most mysterious on this list. We know almost nothing about it — except that it's definitely coming. While the Charger and Challenger twins have been keeping power junkies happy for years, even Dodge can't avoid the shift toward electric vehicles. They did give us a cryptic teaser video, with a barely lit concept model doing a sweet burnout. After that, though … nothing.
We don't know if Dodge will use the Charger or Challenger nameplates for their electric muscle car. Could there even be a super-powered Hellcat version? Hopefully, these questions are answered soon. We do know that the eMuscle will lean into a retro '60s and '70s vibe — a fact that we bet makes Dodge drivers ecstatic. With the Ford Mustang Mach-E already on sale, Dodge better get moving fast.
Starting Price: $40,000 to $50,000 (estimated)
17. Porsche Taycan
The new Porsche Taycan tries to check a lot of boxes. Starting at $86,700, it appears to want to compete with high-end Tesla models for supremacy as an EV performance car. The top-tier Turbo S model, though, comes in at almost $200,000 — out of range for most regular car buyers.
Whether you can afford one or not, the Taycan is a bonafide Porsche. Testers say the brand's iconic DNA can be felt with every roar of the engine. While the Taycan doesn't have the longest range or fasted 0-to-60 mph time among its EV peers, those who've driven it ultimately come to the same conclusion — it's simply the most fun and satisfying car they've ever driven.
The higher-end trims (like the GTS, Turbo, and Turbo S) all boast incredible power and acceleration. Like most Porsche models, there are literally hundreds of customization options to suit your exact needs. Naturally, the Taycan is stuffed with tons of technology, inside and out — massaging front seats, fast charging, regenerative braking, remote parking (via an app), voice controls, and both Android Auto and Apple CarPlay.
Starting Price: $86,700
16. Audi e-Tron GT
When electric vehicles first started hitting the consumer market, they weren't flashy. In fact, they were often cast aside as "nerdy" or "weak." Then Tesla changed everything by making EVs that were fun, powerful, and attractive. Naturally, it didn't take long for other automakers to follow suit. The German luxury brands have since unveiled their own "Tesla killer," and the Audi e-Tron GT might be the biggest threat to Elon Musk's EV empire.
The standard e-Tron GT gets 469 horsepower from front and rear electric motors. That figure actually rises to 522 horsepower in the first 2.5 seconds of acceleration when Launch Mode is active. As a result, the e-Tron GT power rockets from 0-to-60 mph in 3.9 seconds. The RS trim is even better, though. It cranks out 590 horsepower (637 hp with overboost) and gets to 60 mph in 3.1 seconds.
Both versions have an expected driving range of just over 230 miles. For comparison, Tesla models all have over 300 miles of range. While the e-Tron GT definitely competes with Tesla in terms of speed, style, and luxury, it simply can't drive as far. But it's still one of the coolest vehicles on the market.
Starting Price: $104,900
15. Nissan Z
Not everything in 2023 (and beyond) needs to be electric. There's still plenty of room for a sporty, sleek, gas-powered coupe that's stylish as hell and insanely fun to drive. Enter the Nissan Z.
This new model leans on the nostalgic charm of the old Nissan 370Z. However, there's nothing old-school about this flashy roadster. Sharing a platform with the Infiniti Q60 coupe, the new Nissan Z has a twin-turbo 3.0 liter V6 engine, pumping out 400 horsepower. A six-speed manual transmission is even standard. This car isn't made for your daily commute. No, it's only for people who truly love to drive.
Starting Price: $39,990
14. Lucid Air
Lucid isn't exactly a well-known brand name in the automotive industry. In fact, they're a completely new start-up, hinging their success on the debut of a single electric vehicle: the Lucid Air. Then again, the Air looks to be one impressive machine. We're certainly not going to bet against them.
The Lucid Air is a four-door electric luxury sedan. However, it's not just made for sauntering down the highway. The two electric motors on the Lucid Air Dream Edition Performance combine to produce 1,111 horsepower. Lucid promises it can scream from 0-to-60 mph in just 2.5 seconds.
Most attractive of all, perhaps, is the 471-mile driving range you'll get from a single battery charge. For more range, you opt for the regular Lucid Air Dream trim. It extends your driving to 520 miles (although it sacrifices a bit of the power to do so).
Starting Price: $87,400
13. Ford Mustang Mach-E
There were definitely some disappointed grumbles when Ford announced the first electric Mustang would be … a crossover SUV. However, now that the Mustang Mach-E has hit the streets, those grumbles have quickly disappeared. Sure, it's not the all-electric pony car that you probably thought a Mustang EV would be. It's actually better.
The Mustang Mach-E seamlessly merges the power and thrill of driving a Mustang with the convenience of an SUV. The GT model goes from 0-to-60 mph in just 3.7 seconds, thanks to its 480 horsepower and 634 lb-ft of torque. You can get a 70.0-kWh or 91.0-kWh battery, which should get you close to 300 miles of driving range — depending on whether you go all-wheel drive or not.
A massive 15.5-inch touchscreen infotainment system sits on the dash, controlling every aspect of the Mustang Mach-E. Like many modern EVs, it features over-the-air updates, adding new features and content. Even the priciest trim — the $69,895 GT Performance Edition — is well worth the money. In short, Ford really did the Mustang name proud with this electric SUV, no matter how sacrilegious you might think it is.
Starting Price: $46,895
12. Toyota bZ4X
Toyota's brand-new, all-electric crossover marks the famed Japanese automaker's first full-scale foray into the EV market. On the outside, the vehicle features curvaceous contemporary styling and unique aerodynamics. In its press release announcing the arrival of the bZ4X, Toyota describes the vehicle's appearance as "hammerhead shark-like."
Inside, buyers will find the innovative vehicle brimming with advanced features and tech tools. Key highlights include ample connectivity, soundproof glass, a panoramic roof, and generous legroom allowances.
Starting Price: $42,000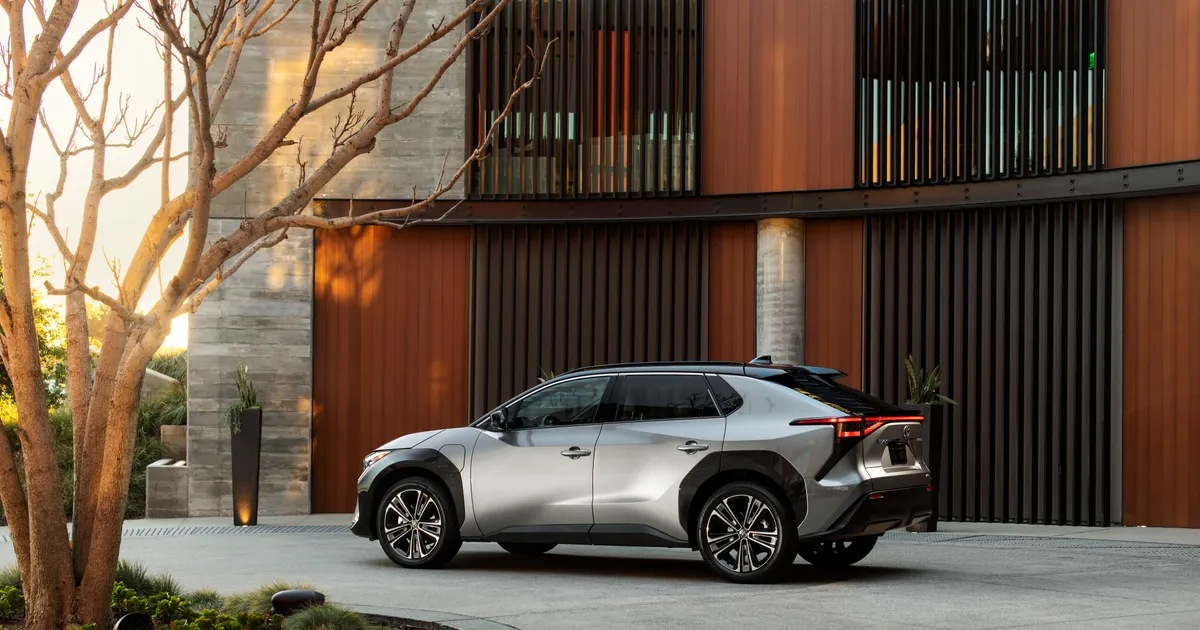 Toyota
11. Chevrolet Equinox EV
Technically, the Chevrolet Equinox EV isn't available yet. The vehicle was sneak-previewed by General Motors at CES 2022, an international showcase of the industry's latest technological innovations. Even so, the buzz surrounding the vehicle is significant.
The upcoming Equinox EV will function as a family-oriented crossover vehicle that runs on electricity. To herald the innovation, Chevrolet has dramatically reimagined the Equinox's notoriously unadorned exterior styling. The upcoming Equinox EV features smooth curves and stylish flairs more readily associated with GM's high-end Buick brand. Its interior offers a dizzying array of technology features that vault the vehicle into the auto market's high-tech end.
Starting Price: $30,000
10. Fiat Panda EV
Fiat's new Panda is a stylish subcompact positioned as the Italian automaker's entry-level model for the year. Its body styling and mechanics are modeled heavily on the company's Centoventi Concept EV, unveiled in Geneva in 2019.
Details are still emerging, but early buzz is highly positive. The vehicle earns praise for its relative roominess for such a small car, along with its cool styling and economical practicality. Notably, the Centoventi Concept EV featured an electric engine.
Starting Price: $36,000
9. BMW iX1
Legendary German luxury automaker BMW's X1 is a compact SUV that runs entirely on electric power. Unfortunately, it doesn't look like BMW plans to sell the iX1 in the United States — at least not at this point in time. Those of us in North America can still appreciate its coolness.
BMW's announcement confirming the iX1's impending arrival set the automotive journalism industry ablaze. The vehicle will import a long lineup of next-generation BMW technology to generate a reported 270 horsepower. Other industry insiders have speculated that BMW could use EV technology similar to that found in its iX3. This could give the iX1 battery a range of more than 200 miles. It also sets up the iX1 to feature a rapid-charge time of about half an hour for 80% battery capacity.
Starting Price: £52,255
8. VinFast VF5, VF6, and VF7
VinFast is a newcomer to the automotive industry. The Vietnamese company announced its arrival in dramatic fashion at the 2021 Los Angeles Auto Show. There, it showcased its upcoming VF8 and VF9 models. At CES 2022, it teased plans for another vehicle series branded as the VF5, VF6, and VF7.
The new vehicle lineup covers entries in the subcompact and compact segments. VinFast's vehicles are designed to lead the upstart automaker to rapid global growth. It was recently announced that reservations for the vehicles will start in early 2023.
Starting Price: $30,000
7. Cupra Born
Cupra is an up-and-coming Spanish car brand. The company has debuted its upcoming electric sporty compact, the Born, to major acclaim. The Cupra Born has drawn some comparisons to the Volkswagen ID.3, but insiders note the Born features more in the way of daring creativity.
While the brand isn't available in the United States, the CEO says they do want to bring their vehicles to North America. Cupra eventually imagines becoming a global brand, after all. Even though we can't buy one over here just yet, we can appreciate its sporty design and performance.
Starting Price: £36,475
6. Chrysler Airflow
Looking ahead a few years, Chrysler may have positioned itself for a major revival. A longtime heavyweight in the U.S. auto industry, Chrysler has seen its once-extensive product catalog dwindle to just two vehicles. However, come the mid-2020s, Chrysler is expected to add the innovative Airflow to its lineup.
The company previewed its upcoming Airflow to great fanfare at CES 2022. Chrysler is betting that its investment in the all-electric Airflow will return the company to relevance. The company is also reported to have more electric models in development. These could make major headway as combustion engines continue to go the way of the dinosaur.
Starting Price: $50,000 (estimated)
5. Volkswagen ID Buzz
Echoing its iconic camper vans of the late 1960s, Volkswagen has returned to the microbus market with the ID Buzz. Volkswagen may be hoping the vehicle will appeal to #VanLife enthusiasts the way its original camper-van became a symbol of 1960s counterculture.
The ID Buzz features an updated take on its predecessor's classic exterior, but it would be a mistake to think of this purely as a retro vehicle. Inside, the ID Buzz is loaded with advanced high-tech features. Those of us in the U.S. may not get this buzz-worthy bus until 2024, but we can get excited in 2023.
Starting Price: $45,000 (estimated)
4. Ford Bronco Raptor
Ford offered the automotive world a sneak preview of its upcoming Bronco line in the summer of 2019. Its production was ultimately delayed by the pandemic, but it finally launched. Shortly thereafter, Ford revealed that it was working on an upgraded, super-cool, high-power version of the Bronco. The vehicle has since been confirmed as the upcoming Ford Bronco Raptor.
Key features include a premium suspension, bold styling, and high-performance off-road capability. Ford released preview videos of the upcoming Bronco Raptor plowing its way through desert landscapes. Beyond that, the company hasn't said much ahead of the vehicle's expected release date.
Starting Price: $73,780
3. Chevrolet Corvette Z06
The Corvette persists as an enduring sports car icon. And now, Chevrolet has beefed up the brand, welcoming a new generation of Corvettes with the dazzling Z06 model.
With a powerful, naturally aspirated V8 engine as its main claim to fame, the Corvette Z06 can go 0-to-60 miles per hour in the blink of an eye. Chevrolet reports that the Corvette Z06 can reach the 60 mph milestone in an unbelievable 2.6 seconds. It peaks at nearly 700 horsepower, making it a relevant entry in discussions of the year's best American-made sports car.
Starting Price: $105,300
2. Toyota GR86
Buyers looking for an affordable entry to the sports car market will likely find lots to like about Toyota's GR86. The fun yet economical high-performance vehicle features a readily attainable entry-level price tag. Even better, it achieves excellent drivability for its relatively modest cost.
The base-model GR86 features a 2.4-liter engine that generates nearly 230 horsepower. Buyers can also upgrade to the GR86 Premium for a few thousand dollars more. The higher-end model adds an extended list of comfort, safety, and performance features.
Starting Price: $28,400
1. GMC Hummer EV SUT
Supertruck enthusiasts were thrilled to learn that GMC was reviving the dormant Hummer brand. The company is launching the all-electric Hummer EV in both pickup and SUV forms. The body styles are collectively described as the "SUT" or sports utility truck.
Incredibly, GMC says its Hummer EVs are capable of producing a whopping 1,000 horsepower. Yet, the vehicle's batteries feature a range of up to 329 miles, marking both an impressive and practical return to its iconic form.
Starting Price: $87,000